I first met Ellie and Ben back in December when I married them in a small kitchen wedding at their house.  Ellie's mom, sister, and son Keane were there, and Ben's parents watched on Skype.  The ceremony was brief, and mercifully so, as Ellie was not only 9 months pregnant, but actually in labor, and getting her vows out between contractions.  Seriously. Check her out: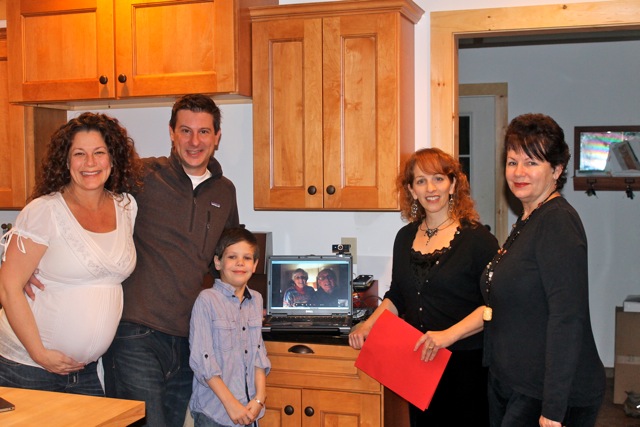 That smile says, "I'm blissfully happy AND in serious pain." Â Her right hand says, "Stay in there, honey, just a little while longer!" Â They left for the hospital half and hour later and their daughter Aspen was born that night.
They'd always planned on having a more traditional wedding with their friends and family, and yesterday, on a gloriously crisp October day, they did just that.
Sweet wee Miss Aspen was on the outside this time, and charming everyone with her tiny little Suzy Wong dress and big batty eyes. Â Her brothers, Keane and Griffin, were as mini-manly as two little dudes can be. Â Ellie and Ben laughed and cried their way through the ceremony as any grateful, loving couple would. Â Not to mention that Ellie, for all the world, looked like a Greek Goddess.
The other entertaining part of the ceremony was that after Ben did the traditional stomping on the glass, there was so much smooching and cheering and general joyous mayhem, that I couldn't get a word in edgewise to officially pronounce them. Â So I just waited, and when there was a momentary lull in the chaos, I shouted out, "By the way, you're married!"
Bountiful blessings on the whole bunch of them.